IRS Tax Debt in Charlotte, NC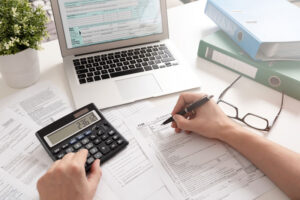 Mitchell Advisory Company works hard to help businesses and individuals in Charlotte, NC resolve IRS tax debt issues including (but not limited to):
Tax Installment Agreements
Bankruptcy
Wage Garnishment
Find out how we can help you get back on track to financial success.
Helping Clients in Charlotte, NC with IRS Tax Debt Solutions
Mitchell Advisory Company is your first step towards finding tax relief. We will work with you 1:1 to assess your IRS tax debt situation. From there, we will be able to determine what your best repayment solutions are.
Clients hire us to handle IRS tax debt issues in Charlotte, NC because we have the experience and expertise to find the best tax debt solutions.
Whether it involves setting up an installment plan with the IRS or helping you file paperwork – you can trust us to work hard on your behalf to negotiate the solution that is in your best financial interest.
IRS Tax Penalties
Financial hardships or mistakes can happen for any number of reasons – and it can happen to anyone. Some of the most common reasons that people get into trouble and wind up facing IRS tax penalties include:
Misplacement of previous financial records
Natural disaster, fire, or casualty
Following poor financial advice
Illness or death
At Mitchell Advisory Company, we're here to help you get your finances in order. We do all of the legwork so that you can spend more time focusing on the things that matter most – like your family and running your business.
Do I Qualify for a Tax Installment?
In order to settle any outstanding IRS tax debt in Charlotte, you may be able to make incremental payments through a tax installment agreement.
We can help determine whether you qualify for a tax installment, and we will also help make sure that you fill out all of the required tax returns.
The IRS gives you several options for paying back money owed, such as online payment agreements, monthly installments and more.
Declaring Bankruptcy
Contrary to what you may have heard, bankruptcy isn't as simple as you think, nor should it be viewed as a "catch all" for all of your tax troubles.
In fact, your income tax liabilities must qualify for bankruptcy first. At Mitchell Advisory Company, we will perform a thorough assessment of your IRS tax debt to determine whether or not you are a candidate for bankruptcy.
The most common types of taxes eligible for discharge in bankruptcy are: old individual income taxes. Not eligible for discharge are civil penalties for payroll taxes.
We will sit down and go through your IRS tax debt with you in order to determine what may or may not qualify as well as determine whether filing for bankruptcy is truly in your best interest.
Contact Us for IRS Tax Debt Resolution in Charlotte, NC
Mitchell Advisory Company is a leader in IRS tax debt resolution in Charlotte, NC. Call us today at 704-671-2678 for additional information or to set up a consultation.