When it comes to enlisting professional business accounting services, Mooresville, NC business owners should turn to Mitchell Advisory Company. We are skilled in any and every accounting task businesses need in order to be successful. Whether you require help with bookkeeping, payroll processing, business taxes, or anything in between, we can help.
Custom Accounting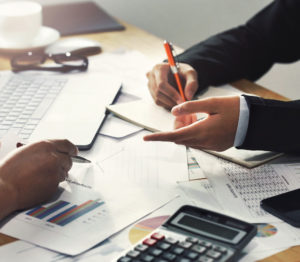 In Mooresville, NC, business accounting services are widely available. Unfortunately, however, a lot of these services take a very hands-off approach. 
It's easy to find a company that will treat you like just another client, take a perfunctory look at your books, and then make a few adjustments. What's not so easy, however, is finding a service that will really get to know you and offer personalized, custom help. But, at Mitchell Advisory Company, we go the extra mile to help your business succeed.
We take the time to understand your business and its finances inside and out. Thus, our accounting services aren't one-size-fits-all. They're specifically tailored to your business and its unique needs. We want your organization to achieve success, and we'll gladly develop an accounting and financial plan that will help you do just that.
Tax Compliance
Our accounting services also extend to helping you stay on good terms with the IRS. The tax laws are always changing, which can make them hard to abide by. However, here at Mitchell, our professional accountants are on top of the latest tax laws and are well aware of credits and deductions that can help businesses to reduce their tax liability.
Not only will we help you file all your tax forms on time and inform you when payments are due, but we'll work diligently to save you money come tax time and all year long.
Cash Flow Management
Our accounting and bookkeeping services also focus on keeping careful track of your cash flow. We can track every cent you spend and earn and provide you with detailed reports on where your money is going. 
Armed with this knowledge and our advice, you'll be able to make important decisions about where and how to invest in the future. Plus, you'll have a better big picture understanding of your business' finances, which can enable you to make wiser decisions about how to manage your organization.
Contact Us Today
If you're ready for your Mooresville, NC business to experience these and other benefits, don't hesitate to contact us. After all, you deserve an accounting service that cares about your business just as much as you do!